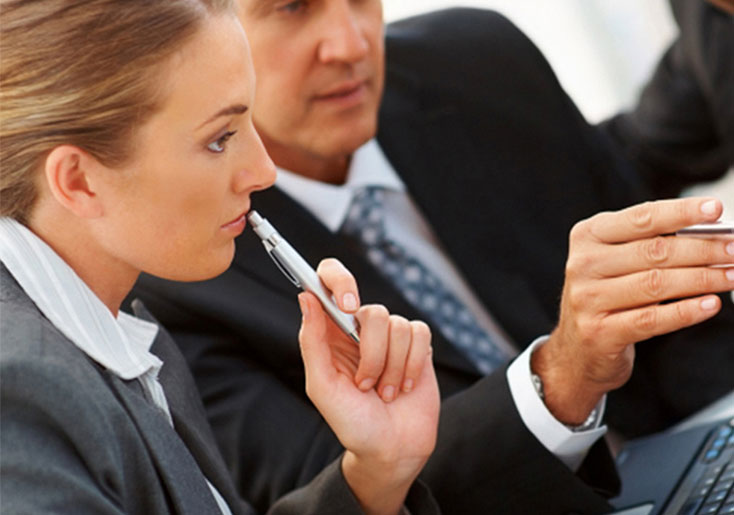 Our History
A Brief History of RKI
1926 or 1928 both have been said to be the date of starting.
Started by Vern Reeves as Vern Reeves Insurance Agency - located at current site of Big Town Hero moved in the forties to 565 Main St sold Personal Lines, Farm and Small Business Insurance
1953 purchased by Roland and Patricia (Reeves) King - Increase scope of sales to Surety, Trucking and Life and Health Insurance moved to 1175 Main St. (at the Y)
1984 purchased by Mitch Gordan and Jeff King - Mitch Gordan passed away in 1987
Currently owned by Jeff, Edda, and Wyatt King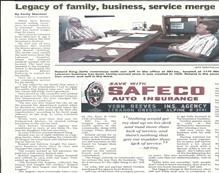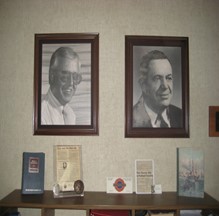 Vern Reeves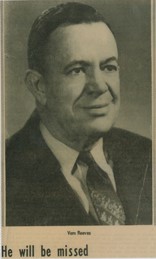 Born in Bloomingfield, Mo September 19, 1895 Died in Portland, Oregon 1968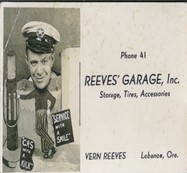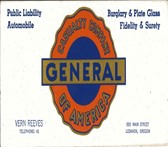 Vern Reeves started in business in Lebanon with his brothers, Emmel, Virgil and Dolph. They started a local grocery store. That store later became Reeves' Clothing. Vern then started Reeves' Garage. The original garage was located across from City Hall on the SW corner of Main St. and Maple St. He moved the garage to the Main St. and Ash St. location. Vern Reeves started the Vern Reeves Insurance Agency in 1926. The original location was on the NE corner of Main St and Ash St. The current site is now the home of Big Town Hero. He then moved to 565 Main St. where the agency stayed until 1977 when it moved into its' current location at 1175 Main St. Vern started selling Personal Lines and Farm Insurance to the Linn County Area.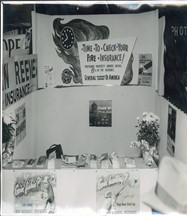 He was known for his friendly manner and good humor. Standing 6'3" tall he was a big man for those days. He had a laugh to match his stature. Vern was also known for having a knack for doing marketing. He went around to the farms he insured and had several of them place signs on their barns. You can see an example of the one that was on Ed Bohle's barn in the photos on our facebook page. Vern ran the insurance agency until 1953 when he sold it to his daughter and son-in-law, Roland and Pat King. Vern is fondly remembered by his grandson, Jeff King for his practical jokes, playing cards and love of sports.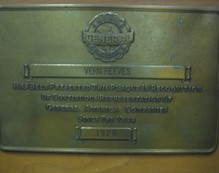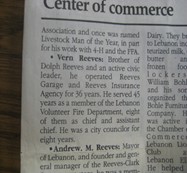 A Story About Vern From His Grandson
One of my favorite this to do was to play 'Old Maid' with Grandpa. If I won, Vern would start tickling my feet. I would escape by running away into his room and sliding on the wood floors under the bed where grandpa could not get me. One day after I won, and when Grandpa tried to get me once again, I took off for the safety of Grandpa's room. Grandpa ha not told me, however, that he had the floor carpeted. Well, I stuck to the floor like velcro. Grandpa Vern grabbed him by the feet and tickled him all the way back into the family room. Laughing and giggling, we went to play another game of cards, with a smile on my face and hopes of beating Grandpa.
Roland and Patricia King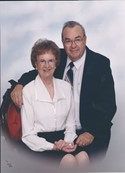 He was born to R.E. King and Eva E. (Yount) King in Carlton. Roland moved to Lebanon because his older sister Idela Osburn wanted to make sure he continued his education. Roland's Dad R.E. thought when he was 17 he did not need to continue school. He wanted Roland to start working in the family logging business. Idela drove to the family home in Carlton, knocked on the door and told her father she was there to take Roland to Lebanon to make sure he graduated from High School. He graduated from Lebanon High School in 1943. He was the senior class president and lettered in several sports. Roland's coach in his High School Sports was Bud Page. Roland and Bud became life-long friends.
He entered the U.S. Army and was a sergeant in the First Cavalry. During World War II, he served in the Pacific Theater (Philippines) where he was awarded a Bronze Star for heroic actions under fire. While on a patrol, Roland and others were pinned down from a machine gun located above them on a hill side. Roland had to climb a hill behind him and run down the hill to throw a grenade into the machine gun nest while under fire. He also received the Purple Heart for injuries sustained in the war.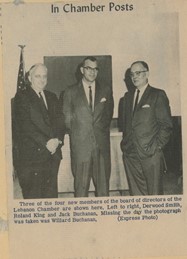 Upon returning, Mr. King attended the Eugene School of Business. He and Patricia (Pat) Reeves were married June 21, 1947.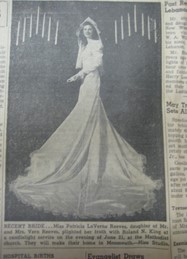 They started working in the family business once Pat graduated from the University of Oregon. It was then known as Vern Reeves Insurance Agency. In 1953, they purchased it, eventually renaming it Roland King Insurance Agency. Roland took over the local agency and expanded its' service area to including Oregon, California, Washington and Idaho. He found a niche in the trucking and logging insurance lines. He traveled the four States meeting with customers. He was known to go through a car every two to three years because of the mileage he would put on them.
He was heavily involved in the Lebanon community. He was a member of the group that brought Little League to Lebanon in the 1950s. He was honored for his leadership in youth sports, with the first girls' softball league being named the Roland King Girls Softball League. Mr. King participated in establishing the first workshop for the disabled in Oregon and served on the Willamette Valley Rehabilitation Center board for 25 years.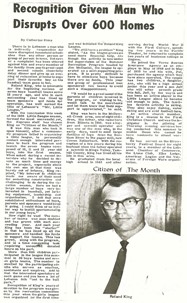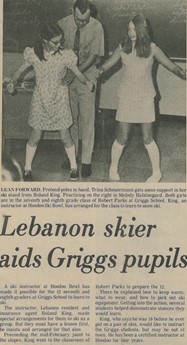 For more than 25 years, he served as a community ambassador with the Lebanon Strawberrians. He was a leading fundraiser for the building of Autzen Stadium for the University of Oregon Ducks. It was important for Roland to be active in the community but not important that he get publicity for doing so. He was a ski instructor at Hoodoo Ski Bowl and served as director of the ski school for a few years.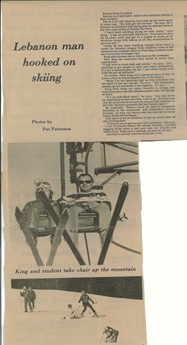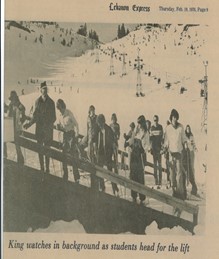 Roland (and Pat) retired from RKI in 1984 when they sold it to Jeff King and Mitch Gordan.
A story about Roland from his son
Roland was always happy to play a joke on his family and friends. A long time ago I won a trip to Bermuda for my sales production with Safeco. It was a fabulous trip that only 150 agents in the United States qualified for. The last night of the trip had a banquet in which everyone attended. This meant attendance was around 500 people with agents, spouses and company personnel. In Bermuda, the "Bermuda Shorts", which tend to be hemmed one inch above the knee, are considered appropriate and very acceptable for formal ware. When I called to tell Roland and Pat how much fun the trip was, they told me that I should wear Bermuda shorts to the banquet, in fact Roland had done so a few years before and it was fine. So I bought a white coat and white formal Bermuda Shorts and wore them to the party. When I got there, I was the only one out of 250 men wearing them. When I called Dad the next day and told him, "Dad... I was the only one that wore Bermuda Shorts." Roland laughed and said, "Yeah, me too!".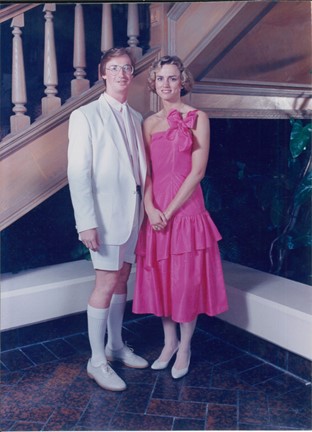 Mitch Gordon
Text entry soon to come. For now please click on the newspaper article for more information regarding Mitch.