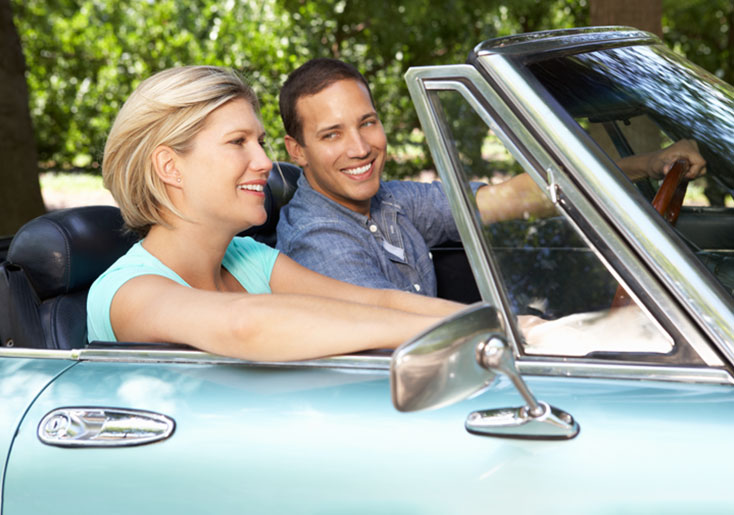 Auto Insurance
The state of Oregon requires every vehicle that operates on public roads to be covered by an active auto insurance policy, and for good reason. Daily driving is the biggest risk most of us take on a frequent basis, even if it can feel commonplace. RKI works with you to customize insurance coverages from quality insurance companies to meet your needs and budget. We'll quote you through several quality companies, help you pick the right fit for you, and get you great protection at a good price. When issues arise, RKI will be there to advocate for you and assist with claims, billing, and underwriting year after year.
Our family agency has been selling and servicing the auto insurance policies of Lebanon since 1926, before it was even required by the state. We pride ourselves on being Lebanon's trusted insurance resource for four generations, and we still believe in traditional agency services. If you care about what your coverages are protecting and want and advocate by your side when issues arise, give us a call.
What Does Your Auto Insurance Cover?
Every household is unique in its own way, and so are your needs and priorities when it comes to insurance coverages. There are hundreds of insurance companies available, each with unique contracts and processes. At RKI, we help you pair your needs and preferences to one of our great companies.
Some of the basic coverages we'll help you evaluate are:
Collision - When your car is damaged in a moving accident, collision coverage helps pay for repairs, replacements, and loss of property.
Uninsured or underinsured motorists - Despite the law, some drivers continue to operate without adequate insurance coverage. This policy pays for your costs if your car is damaged by someone without enough coverage.
Comprehensive - This coverage pays for damages that aren't included in collision coverage. This can include fire, theft, vandalism, animal damage, and a range of other threats.
Medical payments - When accidents happen, medical bills are often the most significant expense. Additional medical payments help defray the costs associated with doctor's appointments, surgeries, and therapies.
Additional Perks from Your Auto Policy
Your car is a big part of your life. Besides helping you pay for repairs; your auto insurance policy can make life easier in other ways. Each of our insurance carriers offer a unique slate of optional coverages to enhance your protection.
Rental coverage - We'll help you pay for a rental car while your vehicle is being repaired after an accident.
Roadside assistance - Gas delivery, towing services, and battery assistance are a few of the perks you can use while you're on the road.
GAP coverage - When you owe more for your car than what it's worth, an accident could leave you with significant out of pocket expenses. A GAP (guaranteed auto protection) policy ensures you'll be able to pay off your liability.
Options Are a Beautiful Thing...
RKI represents a slate of quality, reliable insurance carriers of all sizes and stripes. We write with big names like Progressive, Nationwide, and Metlife who have resources to handle your every need. We have great partnerships with smaller carriers like Sublimity and Grange, who still write insurance in a personal way. We've been writing with our flagship carrier, Safeco, since 1928, and they combine the resources of a national carrier with high quality of service and a personal touch. . Regardless of your situation, whether it's a unique classic car or a driving record a mile long, RKI can help you find great coverage at a good price.
Blending New Technology with Traditional Agency Values
It doesn't matter if you only meet face to face or if you work entirely online, our team at RKI can work with you in finding the right auto insurance. We love to meet up over coffee, but are ready to set up a video conference and handle documents through e-sign. We love the convenience and features of modern technology, and we blend them with the same values that have driven our family agency since 1926 - honesty, advocacy, and stewardship.
Contact our agents at RKI for a free Oregon auto insurance quote.
RKI Referral
Referrals are the best form of advertising out there, and we love 'em! But its not fair that newspapers, radio stations, and even Facebook gets paid for their advertising but you don't! To fix that, RKI has started its own referral program to reward our "grassroot" marketers out there. If you send a friend to RKI to get a quote for home, auto, or liability insurance, we will send you $5 cash to go spend how you please. So send a friend or twelve to RKI for a quote for instant cash and chances to get some cash! *Excludes Health Insurance.*
We are looking to further improve our referral program, so feel free to suggest something and keep checking back to see any changes!