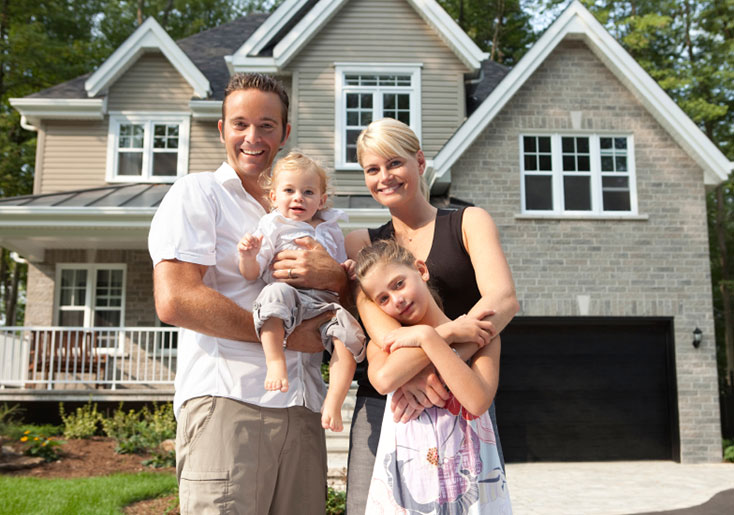 Home Insurance
Where can I find Home Insurance in Oregon?
Whether you're a homeowner or a renter, your home is one of the most important aspects of your life. It might be your nest egg, your center of operations, or your fortress of solitude. Make sure you have protected your home and set up plans for if it gets disrupted. RKI will help you take care of your home with a customized homeowner's insurance policy from one of our reliable insurance companies.
We'll quote you through several quality companies, help you pick the right fit for you, and customize the coverages to match your needs and priorities. We'll sort out the insurance for you with the mortgage and escrow companies as you purchase your dream home. We'll be there if a tree falls or the fires get too close, and we'll help you navigate the claims process and get things back on track after your loss.
Types of Homeowners Insurance
Each insurance policy from RKI is unique and designed to address the specific concerns and desires of the homeowner. Your coverage may include any combination of the following policies.
Personal Liability - From accidents on the property to accidentally overserving your friends late one night, Personal Liability coverage protects you and helps to defray the costs associated with court-ordered payments and fees if you're found responsible for covered injuries or property damage.
Medical liability - For on premise accidents that result in injury, medical liability pays for treatments and other costs the victim may sustain. Usually No-Fault, which means it doesn't hurt your claims record or your rate.
Property - Your contract can include coverage against a range of threats and natural disasters. Theft, vandalism, fire, and specific natural disasters are a few of the conditions your homeowner's insurance may cover.
Personal belongings - Your coverage includes loss or damage to your personal effects. For homes used to store high-value items like jewelry, musical instruments, or artwork, additional coverage may be needed to cover replacement costs fully.
Difficulties of Homeowners Insurance
Homeowners insurance is a much more complicated matter than auto insurance, with higher values, more underwriting factors, and a diverse variety of coverage options. Some people have farms with old buildings, others have manufactured homes, some entrepreneuring families even build their own homes from scratch. Whether you have goats, solar panels, or an in-home business, we're ready to help you understand your insurance options.
The Benefits of Homeowners Insurance
The state of Oregon does not require residents to carry an active homeowners policy. However, there are some significant reasons to include this coverage in your financial plan.
● Though accidents are rare, they can be expensive. Getting the right coverages with the right company means you'll have help getting through the accident, getting repairs going, and support to keep the disruption to your family's life as minimal as possible.
● When your home is undergoing repairs, some policies help you pay for temporary lodgings and lost wages during the process.
● With theft and vandalism coverages, alongside your other property coverages, you'll be protected against the bad actions and dumb mistakes of others, and won't have to wait for their insurance or the collections agency to get you money.
Options Are a Beautiful Thing...
RKI represents a slate of quality, reliable insurance carriers of all sizes and stripes. We write with big names like Progressive, Nationwide, and Metlife who have resources to handle your every need. We have great partnerships with smaller carriers like Sublimity and Grange, who still write insurance in a personal way. We've been writing with our flagship carrier, Safeco, since 1928, and they combine the resources of a national carrier with high quality of service and a personal touch. . Regardless of your situation, whether it's an old farm or a claims history a mile long, RKI can help you find great coverage at a good price.
Blending New Technology with Traditional Agency Values
It doesn't matter if you only meet face to face or if you work entirely online, our team at RKI can work with you in finding the right homeowners insurance. We love to meet up over coffee, but are ready to set up a video conference and handle documents through e-sign. We love the convenience and features of modern technology, and we blend them with the same values that have driven our family agency since 1926 - honesty, advocacy, and stewardship.
Contact our agents at RKI for a free quote today.
RKI Referral
Referrals are the best form of advertising out there, and we love 'em! But its not fair that newspapers, radio stations, and even Facebook gets paid for their advertising but you don't! To fix that, RKI has started its own referral program to reward our "grassroot" marketers out there. If you send a friend to RKI to get a quote for home, auto, or liability insurance, we will send you $5 cash to go spend how you please. So send a friend or twelve to RKI for a quote for instant cash and chances to get some cash! *Excludes Health Insurance.*
We are looking to further improve our referral program, so feel free to suggest something and keep checking back to see any changes!